Christmas Diamond Sales 2021, the time for giving the time for loving, the time for prayers and the time to watch your dollars. So who's got deals on online Diamonds and rings?
Well James Allen has 25% off their Engagement rings and that could save you nearly $1'000 off your Platinum three stone trellis diamond engagement ring.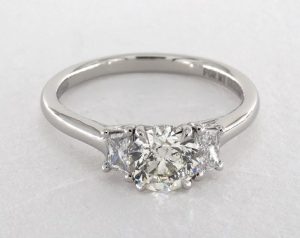 This is just on the ring itself and the two 0.25ct 'Trapezoid' side diamonds. You will have to hunt down a gorgeous 'True Hearts' centre diamond to complement the package.
It's not a huge saving, but it's better in your wallet than anyone else's.
Learn more about my review on James Allen's 'True Hearts' range of diamonds.
Brian Gavin Diamonds have a gift for you, 10% off his Signature Diamonds. This includes the range of Hearts and Arrows Rounds and Cushion Cuts, as well as The Princess, Blue and Advance Range. 
That is a deal worth looking at.  I did a test search for the most expensive diamond on there. It was a 5.04ct Round Hearts and Arrows with a hefty price tag of $231'000 dollars.  But with 10% off that you'll save a whopping $23'100. Now that's a massive saving…Even if your budget is not that large and let's face it, there aren't many of us with that sort of cash, with 10% off you can still save thousands. But be quick.