As soon as you think about investing in a diamond all of us expect to end up getting what we pay for. It may come as a shock to many but many investors and first time buyers purchase diamonds for sale based on little or no research.
Study my other pages on diamond cuts, clarity and diamond certificates before jumping in.
After years of me personally Buying, Selling and Setting Diamonds I wouldn't call myself an industry expert but I do know a good stone when I see it.  Which brings us to another dilemma, buying diamonds online.
In this day and age, with the growth of internet diamond sales there are way more and more diamonds bought sight unseen.  Like many other households, when looking to buy engagement ring and bands online, shopping purchases are not un-common in all areas of our lives. The internet is a fantastic source of good and bad information and an ideal shopping platform.
Buying your diamond, well there are still a few unscrupulous diamond dealers and Jewelers who sell anything from completely synthetic stones to heavily treated diamonds which are not expressed as such. Secondly, a number of International or in-house certificates could be inaccurate regarding the determination 4C's.  Buying a diamond on its certification alone is not a recipe for success. Also be aware that some diamonds whose 4C information indicates an average diamond can however be a vibrant and very lively stone. On the other hand diamonds with suggested 4C's may not be as vibrant in real life. 
Thankfully many large and highly reputable sellers of diamond, ring and diamond wedding bands have invested heavily into their online presence with clear HD videos and images of the actual diamonds and rings.
Current online leaders for white and colored diamonds for sale are;
Still Not Sure – Allow me to find you your dream diamond, no catches, no B/S – Just fill in this Form, Click Here! 
Dating back to 1998 Four creative minds, Oded Edelman, James Schultz, Michele Sigler and Dean Lederman, combined their talents and created JamesAllen.com – and it soon became the largest privately held online diamond and bridal jewelry retailers in the world.
James Allen Diamonds Review:
Their website is clean from distractions and pop-ups, it's easy to read and allows many options to check, view and compare diamonds and rings. They stock mainly highly regarded GIA certified stones and you can select eight different currencies that can be displayed in.Their search page allows customers to select the Cut, Color, Clarity, Carat Weight, Cost and advanced options should you need to break it down further.
The 360 degree panel is interactive and you have the ability to turn and manoeuvre the diamond in a way that other on-line diamond and gemstone merchants don't have. Their interactive ring builder is excellent, one of the best around with a number of alternate stone sizes and carat golds to view giving you an accurate diamond ring price.
 There is a bricks and mortar store on Fifth Avenue in New York City, which allows customers the opportunity to receive personalized red carpet service by appointment. At the time of writing this they had over 200'000 diamonds in their inventory.
James Allen's packing is magnificent, supplied with a cleaning cloth and a Hearts & Arrows viewer if you purchase one of their TRUE HEARTSTM diamonds.
My rating = Above average 'A'.
Their mission: "to offer consumers online the highest quality diamonds and largest selection at the best price." (jamesallen.com)
We all hear similar stories from many other stores, but James Allen is still going strong and does strive to give buyers what they want. Transparency and a Guarantee!
"If We Do Say So Ourselves
Today, JamesAllen.com is the only retailer to present each of its ring settings and more than 100,000 conflict-free diamonds – all hand-selected – in highly magnified 360° HD. 100% money-back guarantee are all part of what keep our customers happy. JamesAllen.com believes in providing meaningful education, friendly support and total transparency every step of the way." (jamesallen.com)
NO IFS, AND'S OR BUTS
10's of thousands of certified conflict-free diamonds, all photographed in 360° HD Diamond Display Technology. https://www.jamesallen.com/diamond-display-technology/
24/7 Diamond Experts, with option for Real-Time Diamond Inspections –  You can interact with a diamond expert who share their screen with you, and walk you through the attributes of this diamond in Super Zoom magnification.
Lifetime Warranty – We are committed to ensuring the quality of your purchase; we will repair and maintain your jewelry for a lifetime.
Free Shipping Worldwide – Purchase any item and we will ship it to you anywhere for free.
Hassle-Free Returns with 100% Money Back Guarantee – If you are not 100% satisfied with your purchase, return it in its original, unworn condition within 30 days, for a 100% refund. No restocking fee. We will pay for the return shipping (U.S. and Canada customers only).

Still Not Sure – Allow me to find you your dream diamond, no catches, no B/S – Just fill in this Form, Click Here! 
Brian Gavin is a fifth generation diamond cutter originally from South Africa then immigrated to the United States.  He started his diamond cutting career at an early age within the families' diamond business. Gavin is often referred to as an industry expert in his field. So passionate about the method of cutting the perfect diamond he published a paper which was presented in April 2004 in Moscow, Russia at the first
International Diamond Cut Conference (IDCC) on the subject of "Hearts & Arrows – How they are Formed and How They are Graded". It wasn't until 2009 that Brian Gavin Diamonds was created selling his signature Hearts and Arrows diamonds. Cut Beyond Brilliant®.
Brian Gavin Diamonds review, On the first initial visit is a little unwelcoming with cold with a dark grey and contrasting orange category boxes. Not as pretty and warming as James Allen but you soon get past that, we are looking for Diamonds not styling our home. It is clear, easy to read and again no annoying pop ups. Overall the website looks a little tired and on the aged side with an image slider with multiple images sliding along. Again this site does have a convenient live chat button with phone a phone number and email link in the top left corner.
Of course the most highlighted diamond is his Signature Hearts & Arrows cut he has also created a few other Signature diamond names eg: "Brian Gavin Blue" line of diamonds contains medium to strong blue fluorescence, "Brian Gavin Cape" diamonds that tended to be faint to light yellow. But his range doesn't stop there with hundreds of GIA and AGS certified stones.  On a negative side it took a little while to locate the currency changer which was tucked into the search list on the right unlike most e-commerce sites where it is clearly indicated in the top right menu.
When searching for your diamond unlike James Allen, you are presented with a long list of stones matching your search criteria, a mild dislike of mine is that NO images of the stones are displayed until you click on one you would like to view, so it takes a few clicks to zone in to a few stones you like.

Not unlike James Allen, Brian Gavin also offers a combination of clear images of the actual diamond photographed under assorted analytical tools, like the ASET tool, Ideal Scope, Hearts & Arrows, 360 degree HD Video and some with Florescence images.  Diamond certificates are also easily viewed. Click on the links if you are unsure what these terms mean above.
They also have a ring builder, however this is nowhere near quality of James Allen's and what I would describe as a little 'clunky'. The rings are also of a basic CAD design and a lower resolution rendering. Again you have the ability to select your golds and ring sizes.  Engraving is an addition cost, but is offered. In considering their range of high quality certified diamonds I would prefer to purchase the diamond only from Brian Gavin if I found the right one.
My rating = Above average 'A'.
Buy Back Policy – We offer a ONE YEAR Buy Back Policy on Brian Gavin Signature hearts and arrows diamonds and Brian Gavin "Blue" diamonds only. We will issue a check for 70% of the purchase price for diamonds that are in their original, undamaged condition and are accompanied by the original, undamaged AGS diamond report
Free Shipping in the United States– We ship FedEx Priority Overnight complimentary within the 50 States for purchases of $5000 or more. For purchases under $5000, we ship FedEx 2nd Day complimentary.
International Shipping –  at the time of writing, shipping a $7'000 diamond to Australia was only $78 and to the United Kingdom was $77 via  FedEx International.
Military Shipping – APO Addresses – We are proud to ship to all APO addresses via USPS registered/insured mail at no additional charge.
Hassle-Free Returns – with 100% Money Back Guarantee – Brian Gavin Diamonds extends a 15-day inspection period on all diamonds and jewelry. Day 1 is the day that you receive the package. The following are some exceptions: All hand engraved (artistic work) items are a final sale and cannot be returned. (Rings and bands with a personalized engraving on the inside are returnable). All Bezel Settings including rings, pendants, earrings and bracelets are final sale and cannot be returned. All custom items are a final sale and cannot be returned.
Still Not Sure – Allow me to find you your dream diamond, no catches, no B/S – Just fill in this Form, Click Here!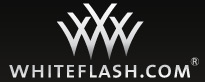 Whiteflash is a premier level retail jeweler that initially started out specializing in diamonds for sale, and thereafter, Designer Engagement Rings and Fine Bridal Jewelry. Started by 'Brian Gavin' in 2000 with the introduction of their patented "A CUT ABOVE® Super Ideal Diamonds" not to mention recognized worldwide by diamond professionals and connoisseurs that they have the finest cuts of all diamonds.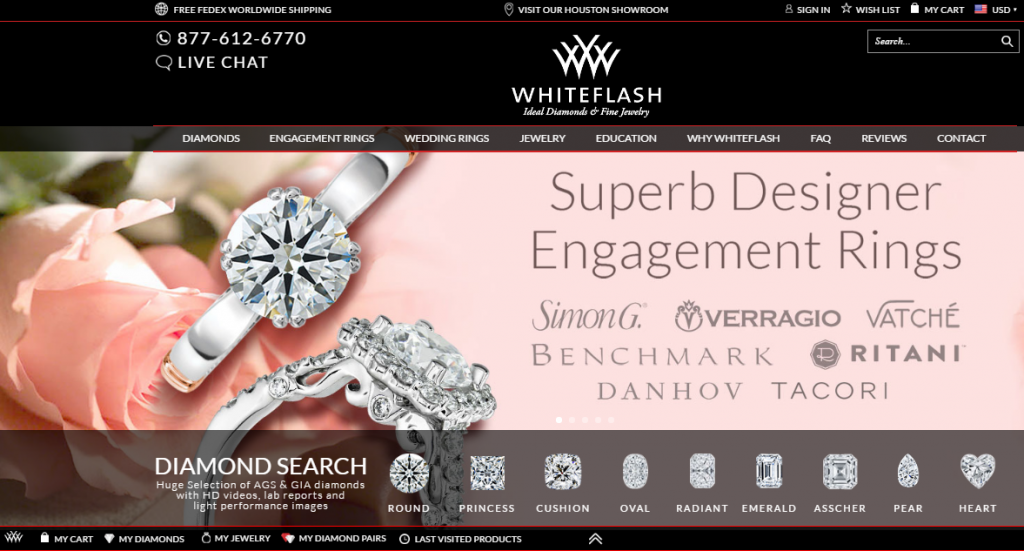 Whiteflash's award winning website was named 'Lord of the Online Rings" by Kiplinger's Magazine. Their simple to navigate site empowers shoppers the world over to view, compare and purchase in-house and virtual diamonds, engagement rings and fine jewelry on a secure platform.They are also the first jeweler to attain an ISO 9000 certification for total quality management and welcome visitors to their showroom in Houston, Sugar Land, Texas. Whiteflash are also members of the AGS, American Gem Society.
Whiteflash Diamonds Review;,
Whiteflash.com diamond's website is clean and clear, also free from those annoying pop-ups on arrival that try and make you sign up to get some sort of discount. "We just want to have a browse first, Right!'
A black background with high quality images and clear large fonts make their site easy to navigate. They mainly stock AGS and GIA certified stones. There are also eight different currencies to assist with your budget, although don't expect the exchange rates to be 100% accurate, just keep that in mind!
Whiteflash has an amazing combination of diamond analytical tools to help you select an online diamond, with the Ideal Scope, ASET tool, Hearts & Arrows, 360 degree HD Video of the 'Actual Diamond' , all the dimensions and a certificate just a mouse click away. Whiteflash's range of  "A CUT ABOVE® Super Ideal Diamonds" is definitely worth a look.  
They offer you 'In-House' and 'Virtual' stones but only the 'In-House' Diamonds have these essential analytical images. I personally would like to see all the analytical images before I went any further, and placed a diamond on my short list. 
Their interactive ring builder is really really good, select a yellow gold ring and you see a yellow gold ring, select a white gold ring, and yep, you guessed it! White Gold.  The images are obviously CAD rendered but do have a number of differing angles and some with hand visualizations giving consumers a clear view of what the ring and diamond will look like. It's all well and good to sprout mission statements and to not perform will result in a business going down.  'Whiteflash' has a proven performance record and is here to stay.
My rating = Above average 'A'.
"Their mission: "Driven by our Core Values, our goal is to provide a Brilliant Experience to each and every customer. As a provider of top quality diamonds and fine jewelry, we are proud to hold ourselves to the highest standards and to offer the most comprehensive value proposition in the industry. And as members of the American Gem Society we are committed to integrity, education and consumer protection."  courtesy of Whiteflash.com
Whiteflash Guarantee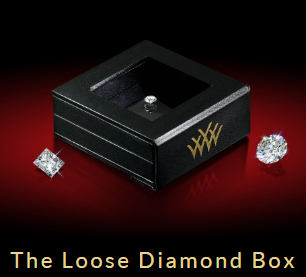 Lifetime Trade-up – 100% Guarantee trade up benefit on 'In-House' diamonds. Note:(not virtual diamonds)
Free Shipping Worldwide – complimentary FedEx shipping, in the US they are sent by Federal Express® Second Day  and for International shipments they are sent via insured Federal Express® Priority. You can also follow your order every step of the way as it travels right to you will of course be able to rack your diamond from dispatch to delivery.
Military Shipping – any APO, FPO, or DPO addresses will be shipped via USPS, and will be a little slower than FedEx
Returns and return Shipping – they do offer a "no questions asked" 30 Day 100% Money Back Guarantee on all in-house Whiteflash certified diamonds, including diamonds from our A CUT ABOVE®, Expert Selection, and Premium Select categories. The 30 day guarantee also applies to all regular catalogue settings into which these diamonds may be mounted, as well as all regular catalogue jewelry items. The money back guarantee is a fundamental part of The Whiteflash Guarantee, the most comprehensive package of assurances, benefits and guarantees in the jewelry industry today.
Certified Diamonds from our Virtual Selection category, and other diamonds that we may source for you, are similarly backed by a 10 Day Money Back Guarantee. Settings containing these diamonds must also be returned within 10 days to be eligible for refund.
However it does appear that the return shipping costs will be at your cost.

One of the worlds best for colored diamonds;
This close-knit family business of father, daughter, and four sons began in 1979 and today is a prestigious and well recognized supplier to renowned jewelers around the world. Leibish & Co. is noted to be a globally accepted specialist of natural fancy colored diamonds for sale and colored diamond jewelry.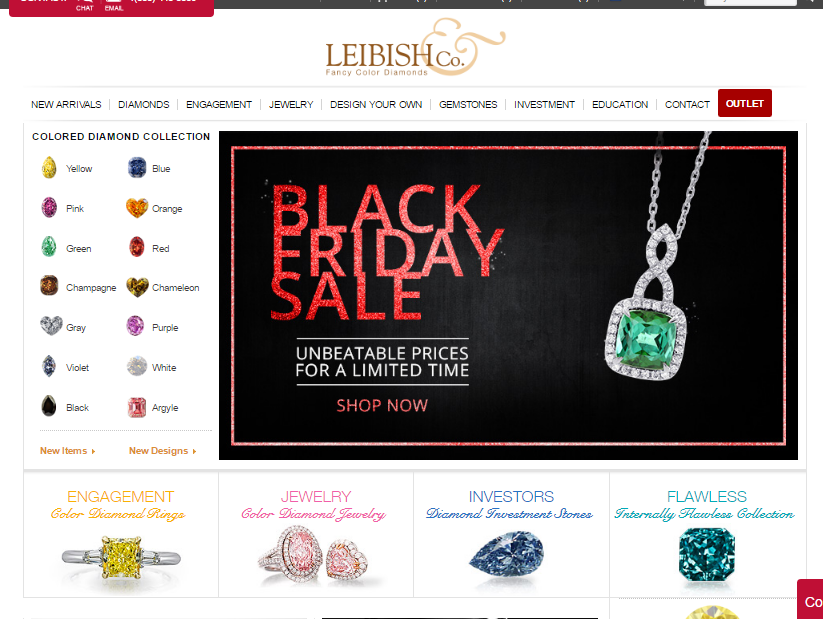 Leibish & Co. is among the biggest web based selections of color diamonds with both fancy and ideal cuts in various hues, clarities and sizes set for any budget, with a focus on Argyle Pink and Canary Yellow diamonds. Its stones are mined in Australia, Africa, India, and Russia and all come from legitimate, conflict- free sources complying with UN Resolutions.
Leibish & Co. was one of the very first fancy color diamond businesses to go online. Founder Leibish Polnauer perceived early on the Internet's possibility of success as a sales, marketing, and service channel to reach new customers worldwide. After the companies initial success it also turned to manufacturing, incorporating into beautiful pieces of jewelry. Their fancy color diamond engagement rings are the company's best sellers, although they create a wide range of jewelry from general items through to haute couture fine jewelry pieces.
All Leibish & Co. diamonds and jewelry come certified with either a GIA, Argyle (Australia), IGI, or certified in house by the Leibish team, by all means ask for another Certificate if in doubt, but this company has a Huge reputation to uphold and I personally don't believe that they would sell a diamond 'Over Certified'!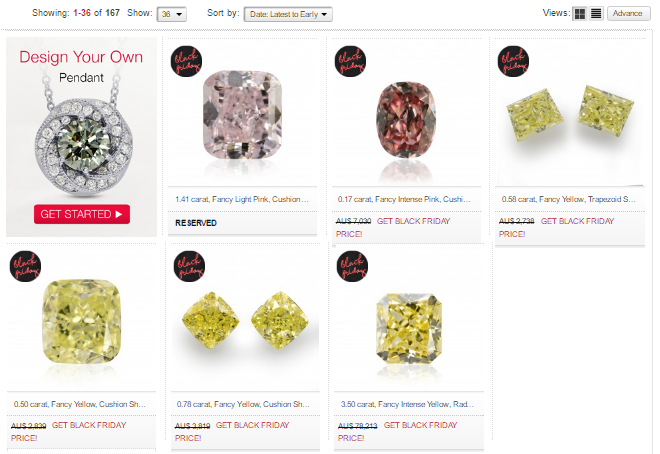 Over the past 33 years Leibish & Co has developed a substantial global network of loyal clientele who continue returning because the company has managed to continuously exceed customer's expectations. Believe it or not, in 2012 the company celebrated a major breakthrough of 100,000 online monthly visits. Also whilst sustaining a fantastic 74% returning customer rate.
Leibish Diamonds Review
Leibish & Co's website is clear, very inviting with a range of bright colored diamonds wanting to be looked at. Being the Diamond fan that I am, I personally enjoy clicking through their range of diamonds.  I am a huge fan of the Pinks having set a few in some stunning engagement rings.  Their colors are very alluring. Overall the website is very easy to navigate with no pop-ups and the convenience of a 'Consult with a Diamond Expert' tab is available, live chat, phone and email are just a click away.
Investment  Diamonds by Leibish & Co. are privy to the Australian "Argyle" diamond mines top Tender diamonds. These diamonds are so rare that a limited number is released for tender throughout the world.  In fact the Argyle mine is set for closure in 2020, not by choice really, but they believe that they will have exhumed the diamonds resources available.
I don't need to spell out what happens when nearly 90% of all Pink Diamonds emanate from the Australian 'Argyle' Diamond mine stops production into the market. Massive increase in Pink Diamond Values.
My rating = Well Above average 'A+'.

Leibish & Co Guarantee – The diamonds and jewelry sold by Leibish & Co. are made of 100% authentic untreated natural colored diamonds of a consistently high quality and value unless clearly stated otherwise. Independent laboratory certificates from GIA, EGL, AGS, HRD or IGI are obtainable upon request for all diamonds and colored gemstones, however additional charges may apply.
Free Shipping Worldwide –  Leibish & Co. appreciates your business and values our customers. Therefore, the company is proud to offer free international shipping, worldwide!
There are no hidden fees or additional expenses that will be added onto the cost of the item (loose diamond or jewelry piece) at any point. However, Leibish & Co. recommends that you consult with your local tax official to see what import duties and/or VAT you are required to pay in your place of residence. Leibish & Co. will not be responsible for any duties, VAT, taxes or surcharges levied by the customer's country.
Returns with 100% Money Back Guarantee – Leibish & Co. provides a 30-day money-back guarantee, no questions asked. A full refund will be given under the following conditions.
The merchandise must be returned or exchanged within 30 days upon its receipt, and must be in its original condition.

The merchandise must not be damaged, worn, used or resized (excluding special orders).

The merchandise must precisely match product data records.

Original Certificate(s) must be returned with the merchandise.
Refunds are not issued for the value of the labor and administrative costs for custom designed jewelry.
All returns go to their New York Office.
Still Not Sure – Allow me to find you your dream diamond, no catches, no B/S – Just fill in this Form, Click Here!