| | | | | | | | | | | |
| --- | --- | --- | --- | --- | --- | --- | --- | --- | --- | --- |
| | | | | | | | | | | |
| Round | Princess | Emerald | Asscher | Pear | Radiant | Oval | Cushion | Heart | Marquise | Trillian |
The Basics
Also referred to as: TOLKOWSKY IDEAL CUT
Unique Features

Facets

L / W Ratio

Origin

My Expert Tip

Considered to be of ideal proportions to maximize brilliance and fire.

58 (57 if culet is pointed)

1.00 – 1.02

By far the oldest cut, established in the 'Seventeenth Century' known as a

Mazarin Cut

Selecting cut over all others will lead you to the most brilliant of diamonds.
Features
The round brilliant cut is  probably the best known 'classic cut' diamond available.  This shape now accounts for at least half of all diamonds sold throughout the world today. Despite being first introduced throughout Europe, the modern round brilliant cut is often referred to as the 'American Ideal Cut'.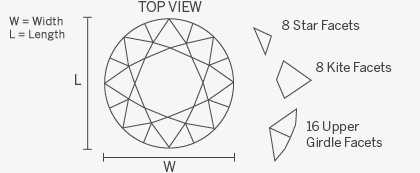 The round brilliant cut is comprised of 58 facets is the base of the culet has is counted.  Typically the depth of a round brilliant is usually 60% of the total diameter. The image below outlines the typical names associated with diamonds. Because the round brilliant is the most popular diamond on the planet, it also gets the most researched.  Since the mid seventeenth century diamond cutters have been painstakingly cutting raw 'Octahedral Diamond Crystals'  in a variety of scientific methods and theories in an attempt to maximize the diamonds fire and brilliance. The first recorded brilliant cuts were designed by Cardinal Mazarin who created the first cross cut diamond, therefor named appropriately 'Mazarins'.  He and his team of cutters continued transform the cut into what was also called the 'old mine cut' or 'old european cut' in the seventeen hundreds. In 1919, Russian mathematician and diamond enthusiast Marcel Tolkowsky, is claimed to have created the modern Round Brilliant Cut Diamond.
As a basic guide, stick to these grading classifications in the table below:
| | | | | | |
| --- | --- | --- | --- | --- | --- |
| Round  | Ideal – Excellent | Very Good | Good | Fair | Poor |
| Depth % | 60 to 63 | 58 to 64 | 57 to 65 | 56 to 67 | >56 or <67 |
| Table % | 53 to 58 | 52 to 62 | 51 to 65 | 50 to 67 | >56 or <67 |
| Symmetry | Very good to excellent | Good to Excellent | Good to Excellent | Fair to Excellent | Poor to Excellent |
| Polish | Very good to excellent | Good to Excellent | Good to Excellent | Fair to Excellent | Poor to Excellent |
Further diamond information can be found at http://www.mesurfsnow.com/diamond-information/