After a number of requests I have started a page for the - "Ring of the WEEK"
This week, it's a classic Pave style engagement ring to suit my Diamond of the Week. This ring has two end 'V' prongs and 2 extra prongs either side to protect and hold your treasured diamond. Inlaid into the setting are brilliant cut diamonds giving some extra bling when other rings do not.
This week, i've selected a 'Celebrity' Halo designed by Tacori. This rings has diamonds from every angle bringing your center diamond to life. Graduating pavé set diamonds set on a sleek and slim band make way for the grand finale, your round center diamond spotlighted by an intense pavé set diamond bloom. Intricate diamond crescent details on the inner face of the ring, make for an irresistible stunner.. Courtesy of WhiteFlash Diamonds
This week, i've selected a beautiful fancy brownish pink round diamond Double Halo Ring, with a center stone weighing 0.21cts and certified by Argyle Australia. The ring features an open pave double halo, set with fancy light pink and collection color brilliants, with the split shank further accented by collection color brilliants. The ring is mounted in 18K White and Rose gold. Courtesy of Leibish & Co.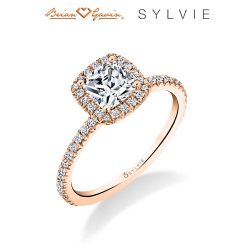 This week I chosen one of the rings from my 10k Engagement Rings page, this gorgous Halo "Designed By a Woman, for a Woman", the Vivian multi-shape halo engagement ring from the Sylvie Collection at Brian Gavin Diamonds.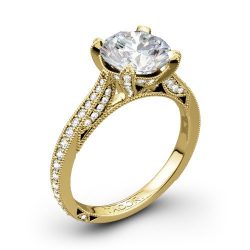 I have selected this classic but traditional style ring to fully reflect the Pefection of this weeks D/IF DIamond from WhiteFlash Diamonds. Available in 18k Yellow, 18k Rose or Platinum.
I have selected a Memorable Moment from James Allens many many couples that have shared their love stories for all to see and share. This stunning example of one of James Allens Engagement Rings is couresy of Jacob and Amber from Illinois, A ribbon of pavé diamonds circling below the center diamond adorns this sophisticated pavé split shank diamond engagement ring. Something a little different. Ensure you check the range of "True Hearts" Ideal Cut Diamonds to really make this ring POP!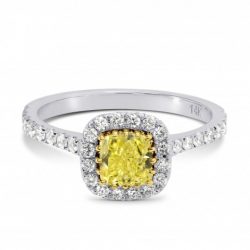 I have selected this classic halo as a complementary style ring to fully harness the beauty of this weeks'Diamond of the Week'. This 18ct Micro-Prong Halo will make your diamond sing louder.
Just the name is enough to have a second look at this stunning Halo. This pavé set diamond ring features a superbly crafted halo top rim with a unique Diamond Pave understructure that allows you to view the open underwork profile of the setting. This ring is designed to be set have a center Diamond weighing from .70ct - 2.25ct. The shoulders, band and open work pave detail are all set with 74 round F/G VS1 quality round brilliant cut diamonds . A carefully selected center stone from WhiteFlash's
'A Cut Above Range' above VS1 will complement this ring for all to envy.
30% off James Allen Engagement Rings - Till Midnight 25 November !

Even the name sounds interesting and alluring, This pavé set diamond ring falls over the edge of this smashing diamond halo ring, creating an impressive display of fireworks and light play. Set with your choice of a stunning center diamond and smalls surrounding is sure to brighten every day. A 'True Hearts' Diamond is essential to make this ring really pop!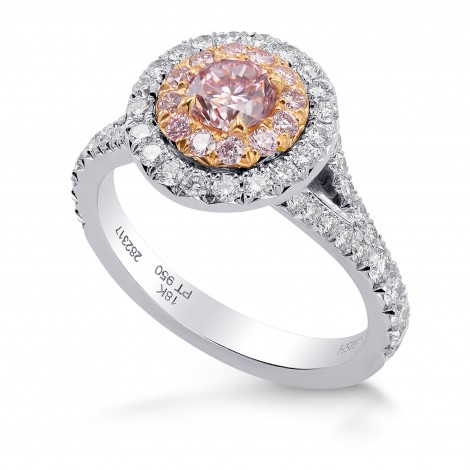 Another stunning 'one of a kind' colored diamond ring from Leibish. This beautiful halo setting is a dream with a fancy intense pink round diamond in the centre and surrounded by pale pink diamonds and colorless white diamonds in the shank.
This beautiful halo setting from Brian's 810 collection has a large center diamond and surround by complementary pave set diamonds surrounding the main setting. Further smaller diamonds accentuate the split band. I love the 'Millgrain' effect around the perimeter. Elegant and timeless! Available with Brian Gavin's ring builder can create and alter your dream ring online.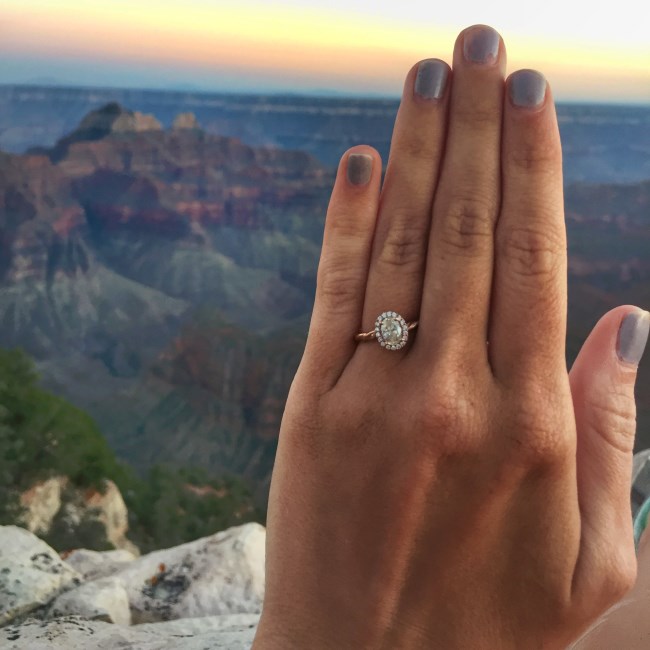 This gorgeous Pave Halo by James Allen is sure to please as it did to a happy couple, "Kathleen & Tyler" who were excited to share their story on James Allen's 'Moments' page. It has a unique cabled band sweeping up to a two tiered Halo design. Set with some stunning True Hearts Diamonds and this ring will shine. Available with James Allen's ring builder you can create your dream ring online staring from a half carat center diamond. They also have a matching wedder which I would suggest since the pattern will be identical.
This Stunning Halo by Brian Gavin will be a timeless creation for years to come. Not to many stones and letting the Center Diamond SING! Worth considering. The 'Anita' features a cushion shaped halo for a round center stone. The center stone is prong set and then surrounded by approx. 0.53 ctw F/G VS Brian Gavin Signature 'hearts and arrows' diamond melee in the halo and 75% the way around the shank. A heart shape accent under the halo adds the finishing touch.
Here's a snippet from a real Story from James Allen Customers - He's a pilot. On a trip with a small private plane, he woke up early one morning, and snuck out to the beach where he wrote "M.....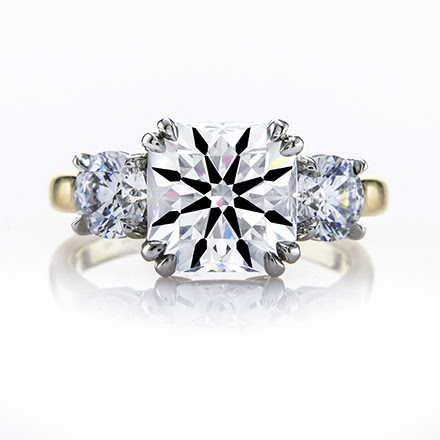 Brian Gavin has made his very own rendition of a famous royal 3 stone engagement ring worn by Meghan Markle, and sought after by many. Read more about her ring and her diamonds.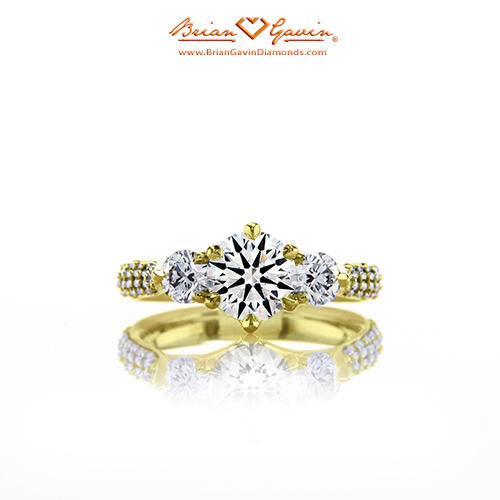 A designer pave style 3 stone Engagement Ring "Aphrodite". Set with your choice of Brian Gavins Signature H&A diamonds. Complemented by approx. 0.32 ctw of F/G VS Brian Gavin Signature H&A melee diamonds. Soft curving lines draw to your eyes to the popping opulance of the 3 stone sparkle.
An exceptional ring from Leibisg & Co , this Fancy Light Yellow Oval weighing 3.03cts and surrounded by complementing with F+ Brilliant cut diamonds in a Halo design. The shank has a Triple split shank style, set with 1 row of Fancy Yellow Brilliant cut diamonds, and 2 rows of F+ Brilliant cut diamonds. Mounted in 18K Yellow gold and Platinum - Leibish.com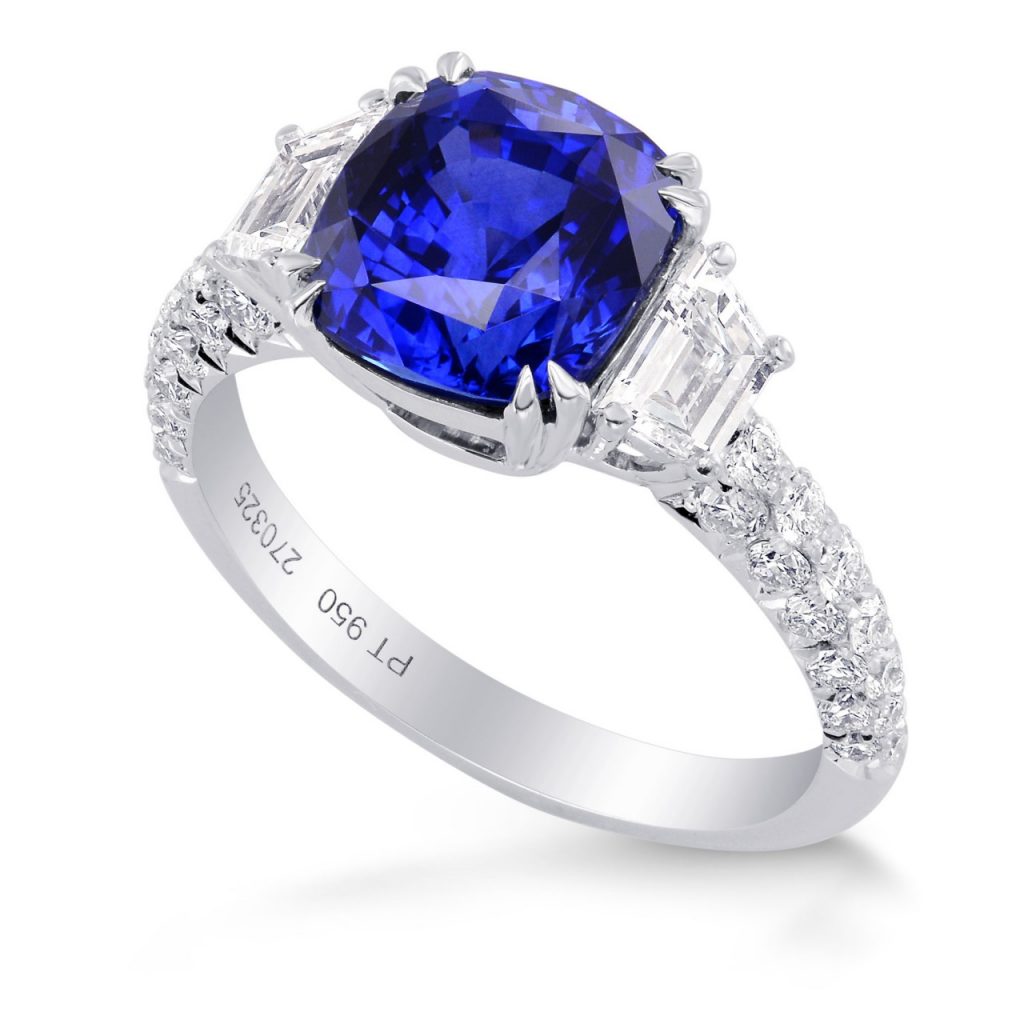 A stunning ring from Leibish was chosen for this weeks "Ring of the Week', with a brilliant Natural Sapphire from Sri Lanka. GRS - (GemResearch Lab Switzerland) with complementing Trapezoid and round brilliant cut diamonds. Vs Clarity and a spectacular 'F' in color. One of a kind ring with a breathtaking Sapphire.​
A gorgeous designer ring by 'Tacori' from Whiteflash Diamonds. Pinctured in 18k White Gold with 0.25ct total weight of complementing diamonds. Waiting for you to selct one of their spectacular centre diamonds. "Dantela Crown Diamond Engagement Ring 2620RDP."
A one of a kind Diamond engagement ring with a GIA certified, 4.47 carat pear shape Fancy Blue diamond, with complimenting fancy pink and colorless round brilliants. Mounted in platinum with the complementary fancy pinks set into 18K rose gold. What Price You ask? - Click Below