Whiteflash Diamonds  and the jewelry design partners have been allowed to produce some of the most unique and creative designer engagement rings sold in the jewellery world market today. Unique styling and impeccable craftsmanship are the hallmarks of these fine designs. Combining these designers and the finest cut 'Hearts and Arrows' diamonds Whiteflash "A CUT ABOVE® diamonds. "  
Whiteflash have teamed up with these designers listed below.  Well worth a browse through their designer engagement rings collection, even for inspiration.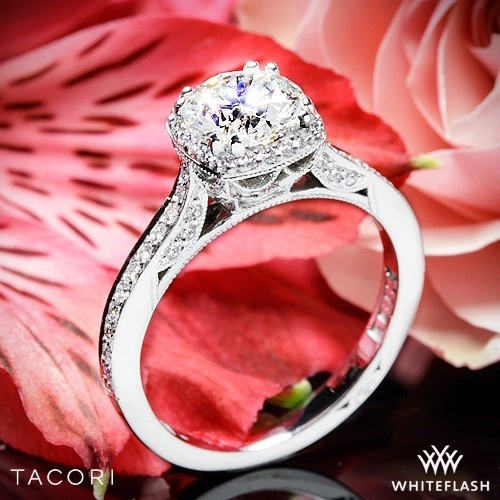 TACORI: One of todays modern and 'in-demand' designers is Tacori. This brand reflects the passion and artistry of Haig Tacorian, the patriarch of the Tacorian family. All Tacori bridal jewelry is made in America and handcrafted by highly skilled jewelers in the Tacori manufacturing facility in California. His designs and unique look is distinctive, unmissable and collectible.  Styles change with time so ensure you get yours before it changes.
VERRAGIO: Over twenty years ago, Barry Verragio has been been designing and specializing in unique designer engagement and wedding rings.  He primarily focuses on the min feature diamond then enhancing the centerpiece without competing with it with other stones.
SIMON G: has perhaps one of the broadest collections. Unique styling and impeccable craftsmanship are the hallmarks of this designer throughout both their bridal and fashion lines.  Simon G is Simon Ghanimian, a master jeweler who emigrated from Beirut to Los Angeles with his wife Silvia some thirty years ago. Simon has become one of the most respected and admired designers in the country.
VATCHE:  started his career journey in the US Air force as a fighter pilot, and through the years has served in a training capacity.  Vatche Aghajayan has a strong desire for precision, and drives Vatche to create bridal jewelry that is truly world-class.  It therefore comes as no surprise that has won First Place in the Platinum Guild International Retailers Choice design competitions on two occasions.
RITANI: Established in 1999. They have become known throughout the bridal design world as a company very much in tune with the styles and sensibilities of the contemporary woman. Ritani engagement rings and wedding bands represent a perfect blend of modern computer aided design (CAD) and old world craftsmanship. The patented Ritani setting features small diamonds set ingeniously in the prongs themselves, accentuating the center diamond in a completely unique way.
DANHOV: launched in 1984, this business has a sense of artistic design with a love for modern technology and  unique motivational process. Danhov is the product of that unique blend of talents and it shows in the fresh styling an. The brand is all about fashion forward design, wear ability and durability. Even the most delicate pieces are handcrafted with techniques that give them heirloom quality.
BENCHMARK:  an all American business, with headquarters and manufacturing facility in Tuscaloosa, Alabama. Located just a short distance from the University of Alabama, the company proudly claims that "Benchmark rings breathe national championship air"! whilst using Using state-of-the-art techniques, ultra-modern manufacturing equipment, and multi-level quality control Benchmark rings are machine set, resulting in a bigger, brighter show of diamonds than conventional hand setting. While best known for wedding bands, Benchmark has begun producing top quality designer engagement rings as well.