A brief history of the wedding band
The wedding ring originates from the time of the Ancient Egyptians. At the time it symbolised eternity and that love had no beginning or ending. The contributing factor we place the wedding ring on the ring finger of the left hand is primarily because the Egyptians thought that finger was the 'vena amoris' (the vein of love). The vein of love was thought to flow directly from the ring finger to the heart.
In Ancient Roman times, rings were presented as a public declaration of wedlock. It was in fact Roman's conquest of most of the known world at that time in history which caused the spread of this custom. It now signifies the pure intention to marry and is a promise of lifelong commitment made to one person. The Romans were also one of the first recorded to include precious stones in their rings and wedding bands.
Should I just buy any wedding ring ?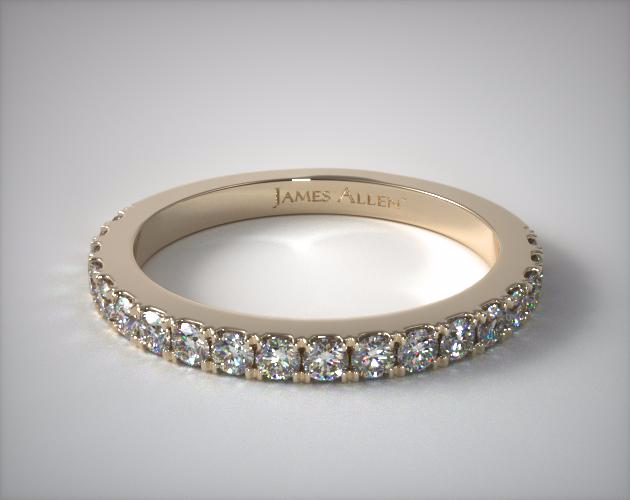 Bling it up
What was traditionally once just a plain wedding band is now also a show piece making up part of your whole wedding set.  Diamond bands
and other gemstones can adorn your finger allowing you to show your style and flair.  Mens and Womens wedding bands are now blending together with many men also choosing to have their bands blinged up.  Mens diamond wedding rings make a statement about your style, personality and can portray your wealth.
Obviously a lot of thought should be given to your lifestyles, careers and sporting activities prior to purchasing an expensive ring.  For example, one cannot imagine a man who spends 2 months a time on a fishing trawler to wear a yellow gold band set with dozens of diamonds compared to an executive that will only lift his brief case or a pen during those months.  Let's not forget the sporty guys and girls compared to the daily socialite latte drinkers, there again their ring choices will and should be vastly different.
Eternity rings are usually given after 1 years marriage or the birth of the first child and they are traditionally set with diamonds all the way around the band, so why not search 'eternity ring's when looking for your wedding band. Obviously these eternity style rings would not be suitable for a curved, flowing engagement ring.
Women's:
If you haven't purchased or been given your engagement ring yet, now is a good time to think about your
wedding band sets. Are you planning on having a single diamond wedding band or split diamond wedding bands with one on each side of your engagement ring? Considering what set of rings you would like may save you lots of money and heartache in the long run.
So you have an engagement ring? Thought should be given to how your wedding band will sit next to your engagement ring. Simple Engagement Rings are often the easiest to fit a wedding ring to, often set with a straight band and a 'Solitaire' diamond.  Large halo, multi stone clusters and those with curved flowing bands will probably require a custom diamond wedding band.  Having your wedding band fitted correctly by a jeweller will ensure a closer fit and help reduce the wearing of the two when they rub together.
Wedding sets are often a good idea, whereby a diamond engagement ring, a diamond wedding band and or eternity band have been created as a set.  Obviously this will eat slightly into your overall budget initially, but you will get the wedding band that matches and fits your engagement ring perfectly, and you won't require a further investment come your Wedding Day.
Men's:
Basically the same principles apply, consider your budget, you and your partners lifestyle and what the ring will say about you.  Wedding bands can help display your, masculinity, ruggedness, charisma, strong-willed, passionate, gallant, fashionable or well-dressed. Another popular choice is selecting matching mens diamond wedding bands , either as a same sex couple or matching to your 'fiancé' can often be a touching, bonding and very sentimental.
Many years ago it was frowned upon for men to bling up their rings and wear diamond wedding bands, however today many men are expressing themselves by having multiple diamonds set into their wedding bands.
Even those on tighter budget can still include diamonds in their bands. As everyone knows and are familiar with, White diamonds are traditionally used, but men and women are utilising other coloured diamond varieties.  See my Blog buy Diamonds and Diamonds for Sale for more details
Diamonds come in a vast array of colours and price variations. A few Diamond alternatives are listed below, but please make sure you take a visit to the worlds largest Natural Colored Diamond Dealer, 'Leibish & Co' www.leibish.com
Black Diamonds – Blue Diamonds – Champagne Diamonds – Silver Diamonds – Cognac Diamonds
Your STYLE
Many newly engaged couples can feel pressured and even obligated by their friends, parents, articles and even social media to choose certain types of rings and wedding bands. You will have to live with your decision, and make it yours.  Don't select a plain wedding band to appease your mother or father because that's what they have.
I hope this information has been helpful in your choice of choosing the right wedding band for you.