If there's one ring that has been talked about for the past months, it's that of Prince Harry's fiance, Meghan Markle.  
Obviously being a Prince of the United Kingdom, the budget can often be unlimited. Prince Harry commissioned the Royal Jewellers, Cleave & Company "Cleave" to make this special ring.
Prince Harry was deeply involved in the selection of gold and diamonds a well as the design. Prince Harry was quoted saying, "The ring is obviously yellow gold, because that is her favourite."  The centre diamond was sourced from Botswana, as Harry had special memories of visiting there as a child as well as spending a large amount of time during Meghan and Harry's courtship.
The actual rings diamonds statistics are still a well kept secret however the centre diamond is as elongated Cushion cut of at least 4 carats with two complementary round side diamonds that where Princess Diana's. (Prince Harry's late mother) 
This ring has now become a must get ring, however the Royal Jewellers with Stephen Connelly, the director of 'Cleave' informed Associated Press stated, "We're not going to be making replica of it. If you want a ring, then we'll deign you a different one." Many a girls heart fell with that news.
Brian Gavin Diamonds has now got you covered, with their new designer ring you can own your Princess Engagement Ring,  "The Megan" .
Brian Gavin has made his very own rendition of a famous royal 3 stone engagement ring. The ring can be customized utilzing multiple diamond size combinations. The first step would be selecting one of Brian Gavin's patented Signature Cushion Cut Diamonds then choosing a matching pair from our Brian Gavin's Signature Round Hearts and Arrows to compliment. Suggested combinations: 1.00ct with matching 0.20cts each, 1.25ct with matching .25cts each, 1.50-1.80ct with matching 0.30cts each, 2.00-2.80ct with matching 0.40cts each or 3.00-4.00ct with matching 0.60-0.70cts each. 
"We're not going to be making replica of it. If you want a ring, then we'll design you a different one."
Stephen Connelly, the director of 'Cleave'
I personally love this ring too, a gorgeous classic design that will be timeless for years to come, and shouts "Princess"!!!. Double Prongs on the centre diamond help enhance the detailed bridge work underneath the diamonds. No doubt budget will be a concern with a three stone engagement ring but even selecting a 1.00ct centre and two .20ct side round diamonds will provide quiet a show for all the envy. Obvisoulsy if you want yours to be exactly the same as Meghans, select your centre diamond around 3.00ct – 4.00ct.  Mark G
As always if you have trouble selecting your dream diamond from Brian Gavin, drop me a line and I'll help you select the right ones.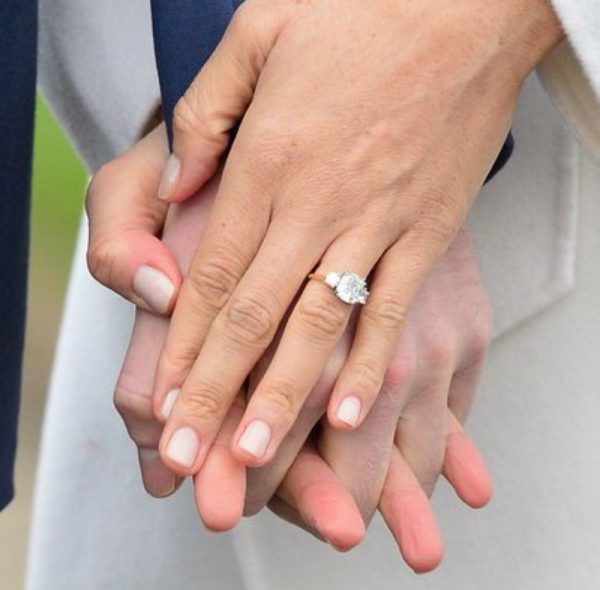 Brian Gavin discussing "The Megan" on Fox26