What color Prongs / Claws should I have?
What color Prongs Claws should I have? 

Why do I see different color golds being used?

What's best for my diamond? or Coloured Gemstones?
I've made thousands of rings and set thousands of Diamonds and Gemstones over the past 35 years and I see a large amount of time going into purchasing your Diamond and Engagement Ring or Wedding Band, but very little is considered when selecting the color of prongs / claws.  A vast majority of engagement rings on the market today are sold with white colored prongs or claws regardless of the metal used to make the rest of your ring and the color of the Diamond of Gemstone. Good jewelers will advise you on the appropriate color and metal to select if you are having something custom made. Whereas when you are purchasing a pre-fabricated or 'Stock' ring the decision has already been chosen for you.  Quite often incorrectly.
White Gold or Platinum prongs / claws are, and have been predominantly used by jewelers for hundreds of years.  What's best then? Well some metals are different in hardness and wear quite differently to everyday bumps and knocks.  Let's look at your dream ring, what color metal would you like? "I only wear Yellow Gold" I hear you say! Well read a little more below to why different metals are utilized.
Ok, now let's look at the diamond or Gemstone you have selected. Is your stone white/colorless or nearly colorless (D – I) or tending into the yellow tones (J – P or lower into the Q-Z range).  I would suggest having your prongs / claws in White Gold or Platinum with higher color grades of D – I  even J – P clors you can use white but try and use Yellow Gold prongs / claws with lower grade colors between Q – Z , This will assist in making the yellow tint of your diamond to more of a Fancy Yellow, without paying the 'Fancy premium price'
White Gold Prongs / Claws
Pictured, is a gorgeous engagement ring featuring a pavé set of diamonds on the halo and along each side of the shank, highlighting the pear cut center diamond or gemstone of your choice. from James Allen.com
White golds would be the most common material utilized for making prongs, even when the rest of the ring is made of yellow gold.  Some rings having the base structure of their setting in yellow gold.  This reasonably affordable metal is bright, hard wearing, has a strong tensile strength when bumped and will complement diamonds that are white, colorless or nearly colorless in the color range of D – I. 
Many White Golds are now mixed with a content of Palladium, another white metal in the Platinum group. The Palladium also give the White Gold a better and whiter color as well as more strength. Well worth considering above Platinum.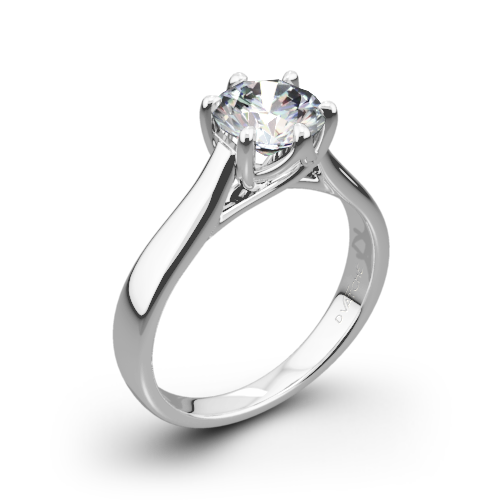 Pictured, is a true classic, the Vatche "Royal Crown" Solitaire Engagement Ring incorporates a twisting 6 prong head and sleek shank that creates one exceptional look. Couresty of WhiteFlash Diamonds.
This White metal is also widely ussed in settings and  is a very durable precious metal, it wears down considerably less than Yellow Golds and less than White Golds, making it an ideal metal for fine prongs / claws.  It's also worth mentioning that whilst Platinum is hard wearing it is also a softer metal when pushed and prodded. Regular checks will help ensure your diamond is secure and you keep it 🙂  . 
Between the two white metals mentioned, Platinum is significantly more expensive and has a tendency to dull off rather quickly compared to the somewhat cheaper White Golds, as well complementing diamonds that have been certified as colorless or near colorless in the color range of D – I.
This classic yet stylish ring from 'Whiteflash Diamonds' is a great example of an all Platinum band and prong set up. 18k White Gold Vatche 119 Royal Crown Solitaire Engagement Ring
 Something to consider? well that's up to you.. It's your choice.
Yellow Gold Prongs / Claws
Yellow Golds are commonly used by jewelers worldwide, either to enhance the diamond or colored gemstone. Although it is a softer metal, it stays bright and when looked after can give you years of trouble free wear.  This gorgeous ring on the from Leibish & Co utilizes a Yellow Gold 4 prong setting holding and enhancing the fancy intense yellow cut diamond.
Pictured, is a fabulous Fancy Intense Yellow Cushion 3 Stone Diamond Ring, with a center stone weighing 2.61cts and certified by GIA. The diamond is flanked by two collection color triangles, all styled in a prong setting and mounted in Platinum and 18K Yellow gold. Couresty of Leibish & Co.
Diamonds certified with colors between J – P or also known as 'CAPE' can really be enhanced by Yellow Golds. Brian Gavin Diamonds has dedicated a large selection of finely cut Yellow or Tinted diamonds in his CAPE SERIES. Click here to read more from Brian. "The Brian Gavin Cape Diamond Collection"
If selecting Yellow Gold as your setting metal then I'd suggest wider, double prongs or even setting with full of half bezels will help ensure your diamond / gemstone is secure for longer. Now I've said that, we should consider your lifestyle and how rough you are likely to be.  White Golds are far more durable than Yellow Golds.
Rose Gold Prongs / Claws
Rose Golds have made a vast climb into the jewellery industry with the setting of Pink Diamonds, Orange Diamonds, Cognac and even Black Diamonds. You would have to agree that Rose gold prongs really enhance the Pink Diamonds color.  I personally recommend using Rose gold around pink Diamonds. It too is a softer metal than it's white gold brother, but it does have the advantage over Yellow Gold with more copper alloy making it slightly tougher.
 This exclusive Platinum ring from Leibish & Co has been well planned set with an 'Argyle' pink diamond utilizing 'Rose Gold' prongs to enhance the stunning pinkish color and then using white Platinum claws on the Yellow Diamond. Using white Platinum claws on teh Pink Diamond would not have done anything to enhance the beauty of that diamond. 
Argyle Pink & Greenish Yellow Diamond Cross-over Halo Ring