After making simple engagement rings and wedding bands for special couples over the years, I would honestly encourage couples to ascertain what it is their soulmate fancies by way of diamond shape, size, setting choices and metal colour and purity preference.
With so much online information one can often become confused and bamboozled at the choices and the combinations of diamonds and their characteristics. This can become even more overwhelming wandering into your local jewellery store knowing you may be faced with such a large number of decisions and let's be realistic, it's probably one of the most significant acquisitions you and your partner can expect to make. So what makes a simple engagement ring?, perhaps you are looking for a single stone, also known in the jewellery world as a 'solitaire'. The band and claws you select in your ring will have a defining impact.
Arm yourself with the maximum amount of knowledge as you possibly can. You will in no time realize that simply choosing the shape of a diamond opens up so many other elements. What qualities that you would like in your diamond features highly with some and not with others. Diamonds and their unique characteristics makes the comparison between diamonds confronting.    On the other hand, if you're like a growing number of happy couples, you may find yourselves helping to make the final decision jointly. When making the decision, ensure that you keep the following in mind.
There are numerous possibilities by which diamonds are typically set. You will find a couple of the most widely used settings below to keep your engagement ring selection simple.
Claw or Prong settings are quite possibly the most widespread settings intended for diamond engagement rings. There are generally four or more gold claws or prongs, which secure the diamond in place and allow light to enter the diamond from many angles. The 4 prong engagement ring from James Allen on the left  allows a larger proportion of the diamond to be seen.  A claw setting can be high, placing the diamond appropriately and proportionately above the band or alternatively it might be compact and low set, resulting in the diamond situated closer to the finger. Consideration should be given to you or your partners, Sports, Hobbies and lifestyle. Eg: if they play a lot of sports or are keen gardeners perhaps a low set diamond would be more suitable.  Care and maintenance must be taken with claw settings simply because they are susceptible to snagging and over time the claws may loosen, possible unsettling the diamond/s.
Seek advice from your local Jeweller to have your settings cleaned and checked.
A Bezel setting is a setting often used in simple engagement rings, this is usually a border/perimeter that wraps around the diamond providing the diamond greater protection.  There are probably only two possible drawbacks to a bezel setting, one is the shortage of light that is allowed through the sides of the diamond, which can result in the diamond looking a little dull, depending on the diamond cut proportions. A well cut diamond does not require any light to enter the sides of the diamond.  Well cut diamonds will appear extremely bright and dazzling even if they are fully enclosed. The other drawback would have to be the possible illusion that the diamond is smaller than it actually is, however it can also have the reverse effect where a diamond can look even larger. To overcome these problems a half or three quarter bezel setting is often recommended. This type of full bezel provides the most stability.
PAVÉ setting or the word "pavé " is French for Pave as in 'paving your sidewalk' Pavé setting has been used over many decades whereby multiple diamonds or gemstones are set with tiny claws or beads holding the stones in place. Most pave settings utilize a large number of small diamonds or gemstones which produce a highly fashionable and  a very sparkly ring.  The ring on the left from Leibish & Co utilizes a 4 prong setting holding the fancy intense yellow cushion cut diamond with pave set side diamonds and a millgrain edge in the shoulders.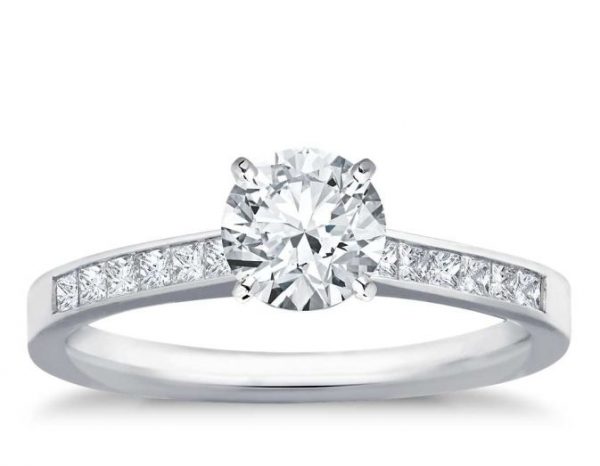 Channel Setting is where there are usually two sides or rails that run parallel or taper with the diamonds sitting in between these rails creating a row.  This type of setting has become quite popular over the last few years.  Often seen set into the shoulders on engagement rings, wedding bands and eternity rings. Brilliant, Princess, Square step cut and Baguette cut diamonds are used in channel settings and also provide a fashionable distinction to the primary diamond.
Modern and Design Competition Settings.
As time goes on Jewelers learn to develop new and interesting ways to hold diamonds in their crafted pieces.
Tension setting is exactly how you would have thought, by 'Tension'.  Often used in Competition pieces but also used in Engagement, Wedding and Dress rings. Most of the bands are usually thicker to provide that tension and security required to hold the diamonds in place
This type of setting is not really recommended for everyday Engagement Rings due to the possibility of losing the diamond/s..
Invisible or Flush settings are often utilised in simple engagement rings and wedding band sets, where the diamonds are sitting just below the surface of the band with a tiny rim of gold pushed or hammered around the diamonds.  This does provide an appealing, fashionable and clean finish.
Halo or Cluster style rings are always a classic. These rings are usually a combination of a larger centre diamond and surrounded by multiple smaller diamond's circling or surround the centre diamond. 
PRECIOUS METALS vs New age Metals used in Jewelry
Another consideration is the type of metal you will use in your engagement ring and wedding bands.
Gold is one of nature's mineral elements and a natural resource. Pure Gold 24KT is too soft to use in today's jewellery.  In ancient times, this was all they used for adorning kings and queens.
Today we use a multitude of gold variations right from 8 carat used in New Zealand right through to 22 carat golds heavily used in India.
Gold in either yellow or white is very popular, although rose gold was used a lot in the early 1900's it is again becoming increasingly common.  By far the most commonly used Gold Alloy today is 18ct gold. This alloy retains its rich colour and retains a high gold threshold value which provides some allergy relief to some people from allergies created from lower carat golds. 
18ct White gold is achieved by actually mixing 75 parts pure gold, 4 parts pure silver and 4 parts pure copper and 17 parts Pure Palladium. 18ct White Gold has a beautiful white colour and can be polished to produce a high lustre.
An alternative precious white metal is platinum, which is a much rarer and weighs almost twice the weight of gold one of the purest natural metals found. Platinum is also more expensive that gold, due to it's rarity.
Titanium and stainless steel are two new metals used fore frequently in jewellery.  Often only used in mens wedding bands due to their increased strength and scratch resistance.
However, these rings cannot be re-sized or stretched up or down.  The size you buy will need to be spot on..!